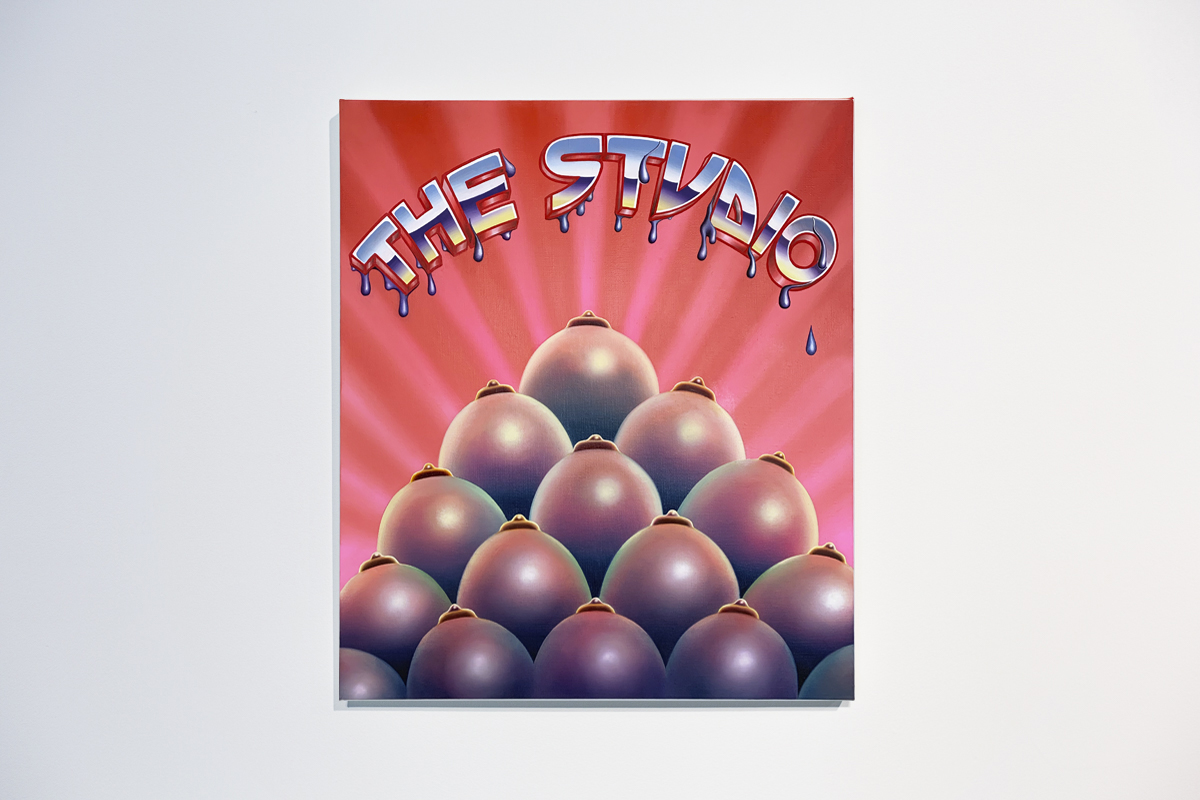 The Studio (Mound Land), 2020. Oil on linen. Courtesy of Sam Weissen, Brussels.

Emily Mae Smith's critical, playful practice uses humor to welcome uninvited guests into the entrenched patriarchal history of figurative painting. Each painting adapts an era of art history known for white, male genius as the setting to highlight the invisible, gendered networks of care and support that were a precondition for mythic artists to prevail over time.


A study for The Studio (Big Banana), 2014, from the artist's personal collection.

Her works offers a revisionist lens to expand the subjects of historical painting—not merely by highlighting the violence, extraction, and precarious conditions felt by marginalized artists—but to affirm their artistry, sexuality, mischief, passion, and the significance of their stories within creative discourses. The experiences of artists erased from the art historical cannon are often characterized by the enchanted broomstick from Disney's Fantasia, which calls to mind a paintbrush, phallus, and maintenance work. At times, the broomstick transforms into other shapes and signs.


The Studio (Smoking Broom), 2014. Prepared ground, acrylic, oil on linen. Courtesy of the Ginsberg Family Collection.

TITLE TBD includes Smith's first broom painting, The Studio (Smoking Broom), of The Studio series, which call back to a famed British arts and crafts magazine "The Studio: An Illustrated Magazine of Fine and Applied Art," published 1893 - 1964. The magazine played a significant role in the development and dissemination of the Art Nouveau and Arts and Crafts movements.* The Studio paintings recur throughout the show, mobilizing a social construct of how artists exist and labor in the collective imagination.† The series proposes alternative mythologies of being an artist. Perrotin New York has graciously shared an extended interview with the artist speaking about her work during her 2019 solo exhibition, Avalon.

Interview with Emily Mae Smith in her exhibition Avalon at Perrotin Tokyo, 2019. Courtesy of the artist and Perrotin New York.

*Author unknown. "Emily Mae Smith: Ex Libris" at Rockefeller Arts Center, SUNY Fredonia. Courtesy of Perrotin New York.
†Maurizio Cattelan. "Emily Mae Smith." Interview, Purple Magazine (2016).


Biography

Emily Mae Smith creates lively compositions that offer sly social and political commentary, with a nod to distinct historical painting movements, such as symbolism, surrealism, and pop art. Her lexicon of signs and symbols begins with her avatar, derived from the broomstick figure from Disney's 1940 film Fantasia. Simultaneously referencing the painter's brush, a domestic tool associated with women's work, and the phallus, the figure continually transforms across Smith's body of work. By adopting a variety of guises, the broom and other symbols speak to contemporary subjects, including gender, sexuality, capitalism, and violence. Smith has been the subject of solo exhibitions at institutions such as Le Consortium, in Dijon, France and the Wadsworth Atheneum Museum of Art, in Hartford, CT and has an upcoming solo show at the Rockefeller Arts Center, in Fredonia, NY. Smith's work is included in the permanent collections of the Whitney Museum of American Art, New York, Le Consortium, in Dijon, France and the Blanton Museum of Art in Austin, Texas.