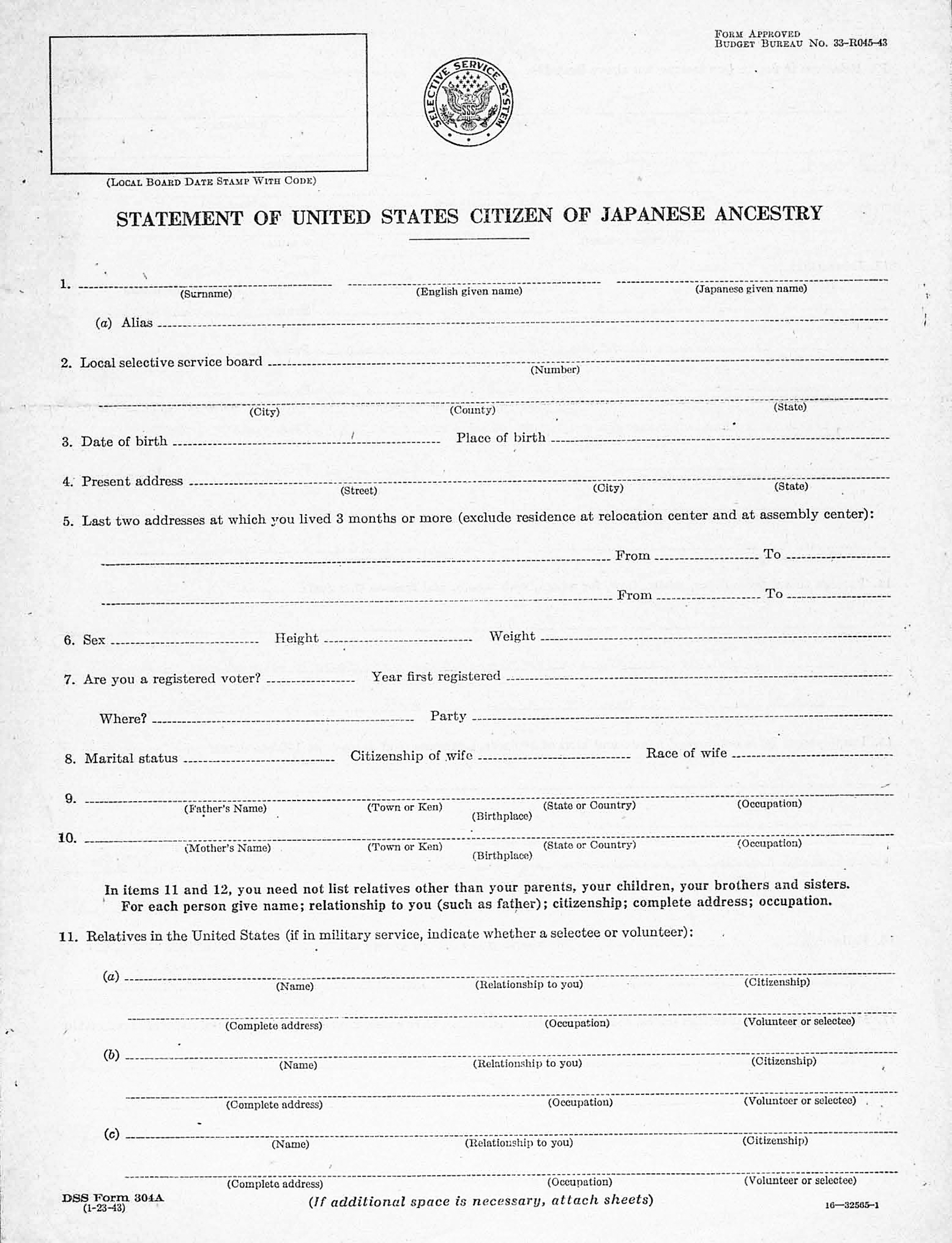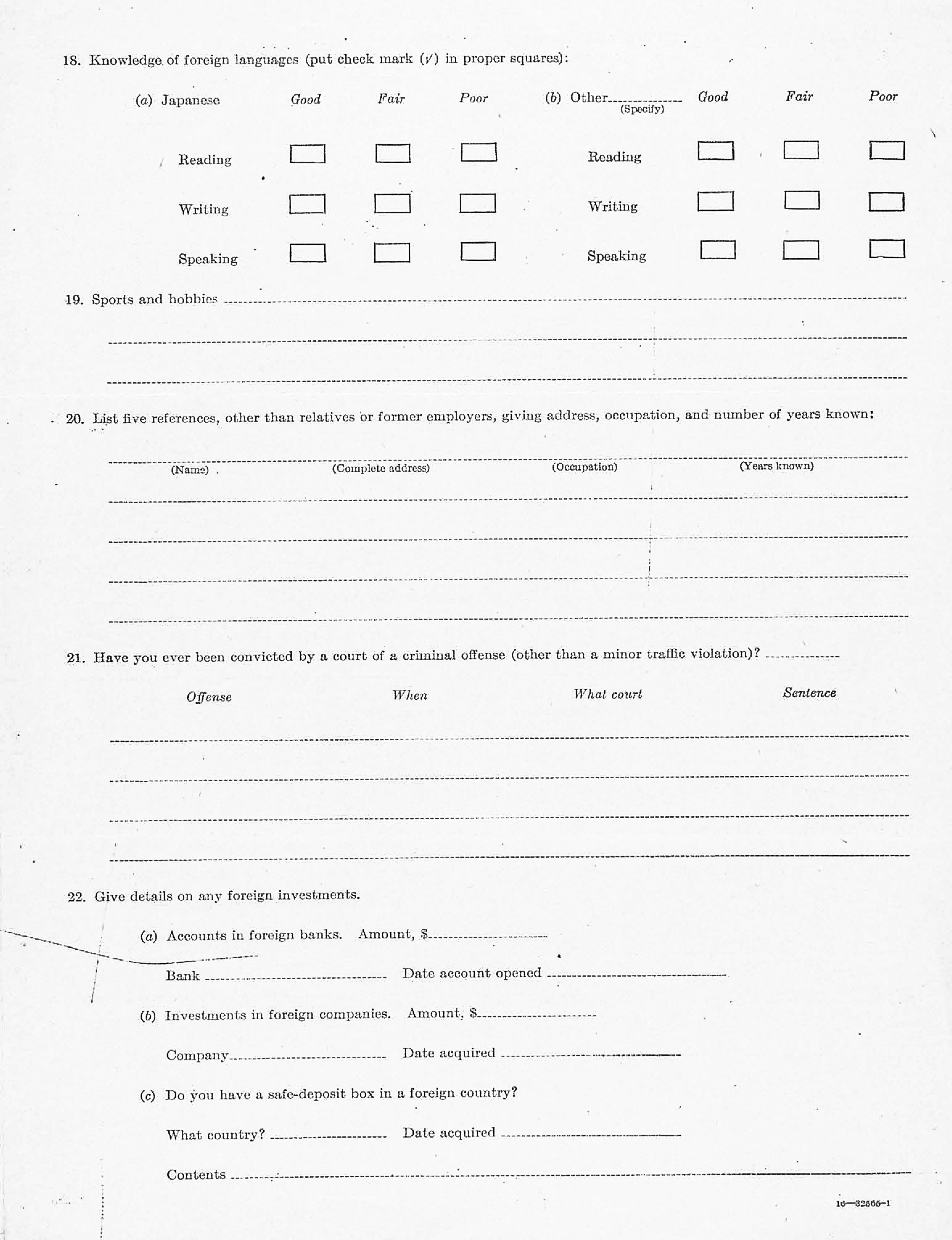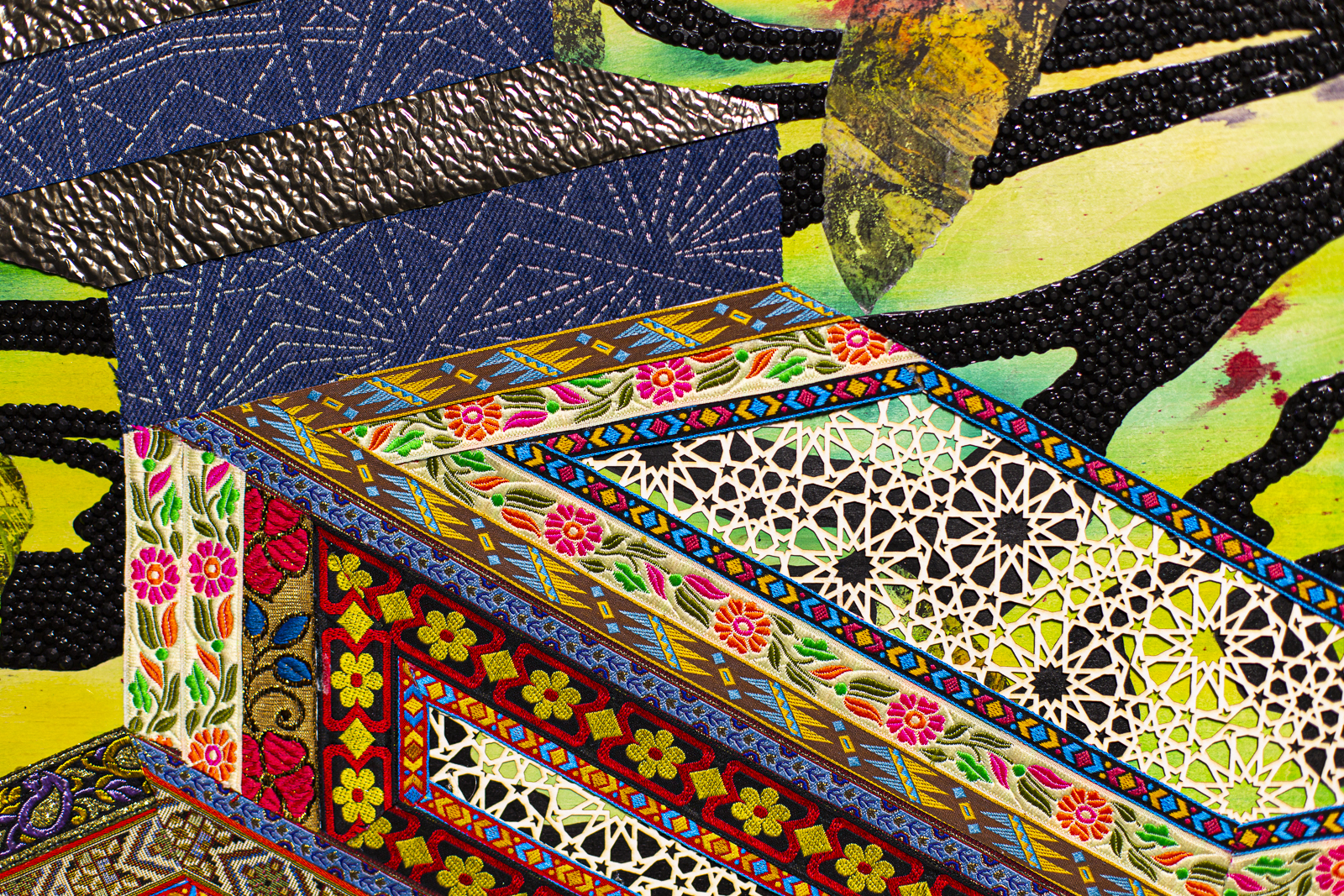 1 The "Loyalty Questionnaire," 1943. Courtesy of Densho, the Ikeda Family Collection.
2 Natalia Nakazawa, History has failed us...but no matter, 2019. Jacquard woven textiles, laser-cut Arches watercolor paper, leather, jewels, concentrated watercolor, photo transfers and acrylic on wood panels.

Natalia Nakazawa's practice researches multiculturalism through storytelling, archives, and migration patterns."History has failed us...but no matter" is part of Nakazawa's ongoing Visual Heteroglossia series, which employs a multilocational storytelling method, integrating multiple views in a single plane.

For TITLE TBD, Nakazawa juxtaposes painting with an archival document known as The "Loyalty Questionnaire." In 1943, the War Relocation Authority and War Department of the US federal government joined forces to create an assessment form to evaluate the loyalty of Japanese Americans eligible for "relocation" while incarcerated in American concentration camps during WWII. Speaking Japanese well, practicing Buddhism, or belonging to a judo or kendo club could result in negative points; while being a native English speaker, going to church, or belonging to Boy Scouts of America would result in added points.*

The form documents an effective tool for cultural erasure, as incarcerated Japanese Americans faced the ultimatum to either assimilate to white-centered values or become stateless. This legacy of administrative oppression is relayed in the present-day experiences of Asian American communities, such as the perpetuation of the anti-Black "model minority" myth.

Nakazawa's strategies of collage and composition-building highlight a certain richness that comes from synthesizing cultures, but also creates a destabilizing landscape—one in which it difficult to get a foothold or find center. The artist's visual metaphors articulate the myriad and conflicting inherited traumas of immigrants, displaced peoples, and people of color in the United States.



*Cherstin Lyon. "Loyalty questionnaire," Densho Encyclopedia.



Biography

Natalia Nakazawa is a Queens-based interdisciplinary artist working across the mediums of painting, textiles, and social practice. Utilizing strategies drawn from a range of experiences in the fields of education, arts administration, and community activism, Natalia negotiates spaces between institutions and individuals, often inviting participation and collective imagining. She is also a core member of arts administrator collective, Admin⚙️.

Natalia received her MFA in studio practice from California College of the Arts, a MSEd from Queens College, and a BFA in painting from the Rhode Island School of Design. She has recently presented work at the Arlington Arts Center (Washington, DC), Transmitter Gallery (Brooklyn, NY), Wassaic Project (Wassaic, NY), Museum of Arts and Design (New York, NY), and The Metropolitan Museum of Art (New York, NY). Natalia was recently an artist in residence at MASS Moca, SPACE on Ryder Farm, The Children's Museum of Manhattan and Wassaic Project.